Located in a 20 year old downtown condo building, the young owner wanted to update the look and feel of this one bedroom unit, but only had a very limited budget. Priority was given to bringing in new furniture and area rug for the living room. Twin built-in bookcases flanking the sofa in the living room – visually overwhelming the space – were moved to the bedroom. 
To update the dining area, an old brass candelabra was replaced by a mid-century pendant light over the antique dining table. The table and chairs were painted a soft grey, and a geometric grey and black fabric was chosen for the seat cushions and matching runner. 

In the kitchen, another portion of the budget was allocated to replacing an outdated speckled brown bar top with a subtly veined grey quartz, to coordinate with the hues throughout. The look was further updated by replacing round cabinet pulls with elongated brushed nickel pulls, and changing the lower cabinetry paint to a medium grey. Kitchen counters were de-cluttered and a striking horned animal skull was relocated to the bulkhead, accentuating the ceiling height.

The bookcases, repurposed in the bedroom, became striking pillars on either side of the bed, making it a dramatic focal point. Now, instead of the usual small bedside tables, these units provided functionality by incorporating inserts in the lower portion to turn shelves into closed cabinets. New bed linens in black & white completed the transition, a colour combination that was carried over to the bathroom shower curtain and accent wall art.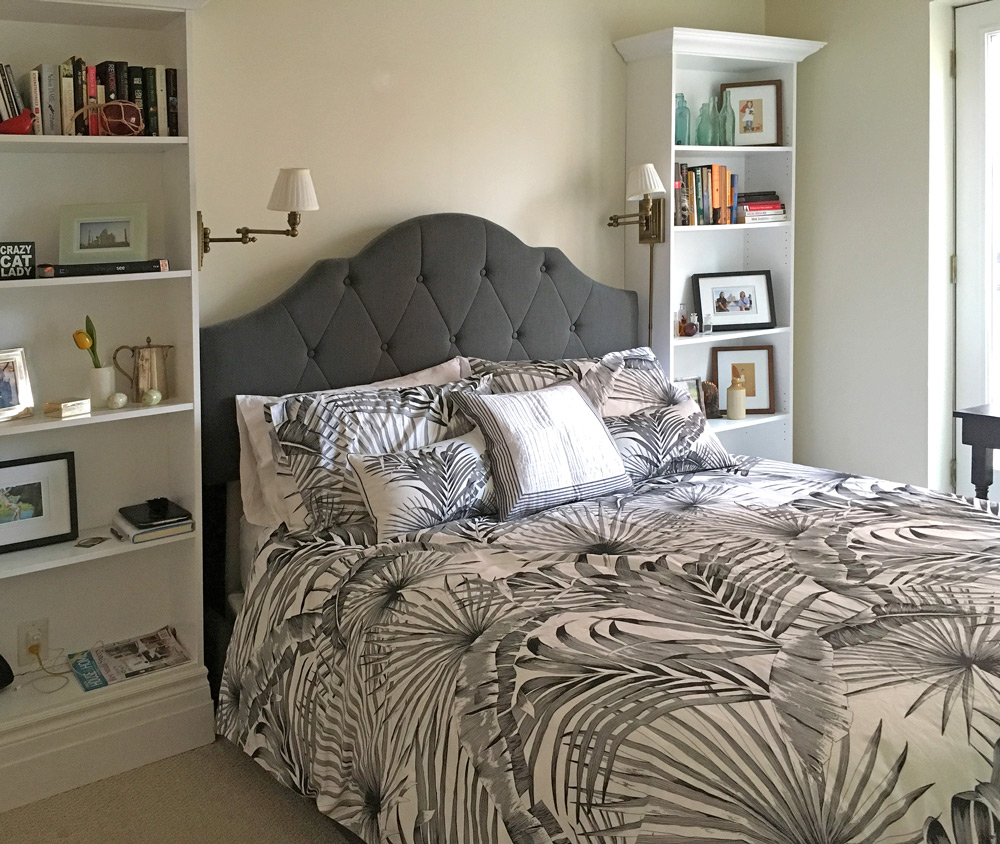 © 2018 Andrea Scott-Pearse
Interior Design + Project Management
Site by kesvn studio